PASADENA DIVORCE ATTORNEY FOR BUSINESS OWNERS
In a California divorce, property division is already one of the most contested aspects of the process. However, business owners often face additional obstacles when trying to separate their assets evenly. Due to the complexity of community property and business operation laws in California, it's fundamental that you consult a legal firm that knows how to handle a divorce involving a Pasadena, CA business.
Divorce Representation for Business Owners in Pasadena
Owning a business takes a great deal of drive, passion, and hard work. At Khalaf Law Group, we know how much time and energy you put into your business and are committed to protecting your rights to it. Whether you started your own business before getting married or you and your spouse formed one together during your relationship, you can expect challenges while determining how to split your assets.
Our staff is prepared to offer support and detailed representation in order to achieve favorable settlements for our clients. If you are a business owner in Pasadena and need help in a divorce case, ask what Khalaf Law Group can do for you.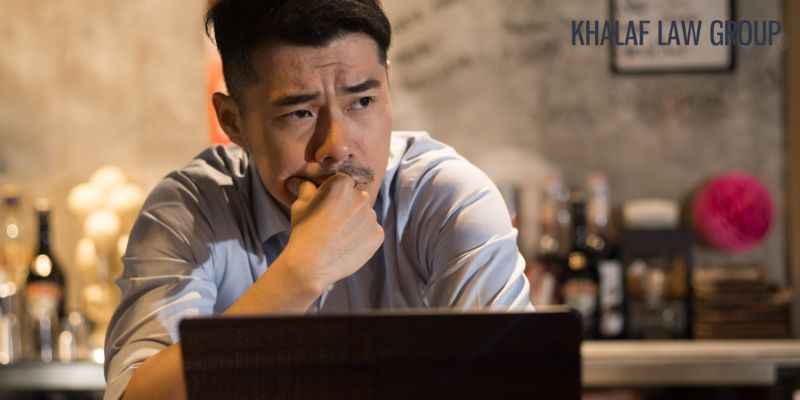 How Are Divorces Different for Business Owners?
California is one of the few states that follows community property laws when a couple divorces. According to these laws, the property that a couple collects during their marriage is legally considered "community." Each spouse is equally entitled to all of their community property, which means that it must be split as equally as possible if they decide to divorce.
When a couple creates a business together while they are married, that business is classified as community property. This means that if that couple were to end up divorcing, the state has to determine a fair split of that business and all of its assets. However, a business is not something that can simply be split down the middle. Instead, a separating couple or a judge must come up with creative solutions to split property rights and benefits. If one spouse formed a business before their marriage, this is considered separate property and should be protected during your divorce.
In addition to the anxiety that community property laws may induce, many business owners are worried that they won't be able to keep their business alive during a divorce. Unfortunately, most divorces that are intertwined with conflict result in both spouses having to pay a lot of money. If a divorce is expensive, business owners may not be able to keep their company afloat while attempting to pay off their legal fees. Regardless of what your concerns may be, it's important that you discuss your situation with our firm so that you can better understand what steps to take moving forward.
How Is a Business Divided in a California Divorce?
When a business is identified as community property in a California divorce, there are generally three methods that can be used to split it fairly:
1. Ownership Is Split Equally or Based on Involvement
Before going to court, a divorcing couple can try and make a fair agreement on how to split ownership of their business. If they are unable to make an agreement but would still like ownership to be split between them, a judge will have to decide how to do so in court. A judge will consider multiple details when deciding how to split a business in a divorce, one of the most important being each spouse's level of involvement. If it is clear that one spouse wanted to start the business and does the majority of work there, a judge may consider this when deciding how to split ownership.
2. The Business Is Sold, and Spouses Split the Profit
In many cases, splitting a business and all of its assets can result in more stress than you need. Because of this, many individuals choose to sell their businesses and split the profits. If you and your spouse believe this is in your interest, you should still consult with an attorney before moving forward. If you two are able to make an agreement, you can present the terms of your choice to a judge for approval. When spouses can't agree on how to split their company, a judge may decide that the fairest method is to sell it and split the profits.
3. One Spouse "Buys Out" the Other's Share
Sometimes one spouse has the funds to offer compensation for the other spouse's share in the business. If they are able to draft a reasonable agreement, one spouse may be able to "buy out" the other spouse's share in their company. Attempting to buy out your spouse's rights to your business is more complicated than when you do so with a family home. This is because the value of the business also includes the potential revenue it can make after the divorce. This means that the spouse that is trying to buy out the other person's share would have to make up for the potential revenue that the other party would miss out on. Because of this, the spouse trying to buy out their partner may end up paying much more than just half of the business's actual value.
How Does California Divide Your Business Assets in a Divorce?
Along with dividing the official ownership of your business, you will also have to split all of your business's assets in a divorce. Doing this can be complicated, especially when you are keeping the business open. In most cases, a judge will divide the rights to assets based on what they believe is fair. If the business and its assets are being sold, both parties will then be able to split the profits based on percentages determined by a judge. When deciding how to divide business assets in a divorce, a judge will consider factors like:
Each spouse's involvement in the business.
Whether one spouse owns more of the business than the other.
How long they have been operating their business.
The economic potential that each spouse can bring to the business.
Whether the business is being sold.
Whether the business is being given solely to one spouse.
Other Aspects You Must Address in Your Pasadena Divorce
Along with the division of your business and its assets, you must also address the general matters that come with every California divorce. These can include:
Property Division
Splitting your business is just one part of the property division process in Pasadena. As mentioned previously, community property includes all assets that a couple gathered while they were married. This means that all of their marital property has to be identified and valued so that it can be divided between each spouse fairly.
Spousal Support
While spousal support is not automatically required in a divorce, it is granted in a majority of cases where one spouse earns much less than the other. To request alimony in Pasadena, you or your ex-spouse have to file a petition with the family court. They will then consider whether or not you qualify for alimony and will assign it based on the circumstance of your divorce.
Child Custody
Child custody is another challenging matter that often involves heightened conflicts. Whenever children are involved in a separation, a judge must make a custody decision that they believe is in their interest. Between splitting a business and splitting physical time with your children, hiring a divorce lawyer is one of the most important things you can do for yourself in a difficult divorce.
Child Support
After a custody agreement has been made, a judge will also create a child support order that requires one parent to make payments to the other. Child support is designed to help lower-earning or custodial parents meet the basic needs of their kids after a divorce or separation. If you are the receiving parent and have not been given your payments, or if you are the paying parent and believe your order is unfair, talk to a lawyer as soon as possible.
What Can Our Firm Do for You?
Going through any kind of divorce can be intense and emotional. By retaining our accomplished divorce team, you can trust that you have the right kind of help to get through your case. We know that your business is important to you, which is why we're prepared to represent you and your rights to it in court. At Khalaf Law Group, we can:
Help you file for a divorce
Have your divorce papers served
Assist in gathering evidence during the discovery process
Negotiate agreements with your soon-to-be-ex and their lawyer
Represent you during conflicts in court
Help properly value your business
Offer insight into difficult situations during your divorce
Fight for you to receive what you're entitled to
Protect your business
Khalaf Law Group: A Divorce Firm for Business Owners
At Khalaf Law Group, our services help business owners get through the toughest divorces. If you're looking for advice, representation, or general assistance in a Pasadena divorce, don't wait to consult our team. Contact Khalaf Law Group today to protect your business and yourself with the help of our accomplished firm.